1. Verizon Just Spent $45 Billion on New 5G Spectrum
The FCC today announced the winners of Auction 107 for radio frequency licenses in the coveted "C-Band". Verizon spent $45.5 billion, well over half the $81.1 billion total spent in the whole auction. All major US carriers spent large amounts, with AT&T spending $23.4 billion, T-Mobile spending $9.3 billion, and US Cellular spending $1.3 billion. Auction 107 is for radio frequencies spanning 3.7 to 3.98 GHz. This band is unusually large at 280 MHz wide, giving it valuable high capacity for many users and/or fast data speeds. Spectrum in these "mid-band" frequencies is also valuable because it's ideal for building 5G networks that offer a good balance of fast data speeds and broad coverage. Most current 5G networks in the US offer only fast speeds or broad coverage, an issue that is particularly acute for Verizon at the moment. Auction 107 is likely to be the largest and most important of several C-band auctions the FCC is holding. Auction 105 was the first, though it raised only $4.6 billion. The next will be Auction 110, for 3.45 – 3.55 GHz. The FCC finalized its proposed rules for that auction earlier this week.
read full story
2. Android Auto Adds Games, Wallpaper, Split-Screen View
Google is rolling out a major update to Android Auto. The new version includes car-optimized games such as trivia and "Jeopardy!". The feature can be activated by saying "Hey Google, play a game". Users can now "select from a variety of car-inspired backgrounds to personalize your car display". Finally, on "cars with wider screens", a new split-screen view "features a real-time view of Google Maps and media controls". The update will be available in the coming days for phones with Android 6 and above.
read full story
3. Google Now Lets You Schedule a Text in Messages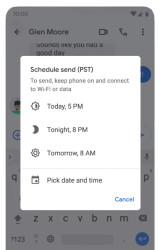 Google has started rolling out an update to it Messages app that lets users schedule a text message to send at a later time. The feature is designed for people with "loved ones in another time zone or on a different schedule". To use the feature, simply press and hold the send button to reveal a new pop-up menu for scheduling. The menu provides several suggested times as shortcuts, plus an option to pick any specific date and time. The feature will be available in the next Messages update for phones running Android 7 and newer.
read full story
4. Samsung's New 50-Megapixel Camera Sensor Supports Staggered HDR
Samsung today announced a new camera sensor featuring a number of new technologies that will offer improved HDR, low-light performance, and auto-focusing. The ISOCELL GN2 is a 50 megapixel sensor with 1.4-micrometer (ÎĽm)-sized pixels. The GN2 supports staggered HDR, which lets a device capture short and long exposures simultaneously, for HDR images with fewer motion artifacts. Staggered HDR can also enable computational HDR for video. Support for staggered HDR sensors is a key feature of Qualcomm's latest flagship chip for phones, the Snapdragon 888. Samsung also claims that staggered HDR is 24% more power-efficient compared to the traditional HDR technique. The GN2 also sports Dual Pixel Pro, an improved auto-focus (AF) system that uses all sensor pixels for focusing. While previous dual-pixel AF systems can only detect pattern changes horizontally, Dual Pixel Pro splits pixel elements diagonally, so it can also use vertical information to lock focus quickly. The GN2 also has Smart ISO Pro, which does for ISO what staggered HDR does for exposure length. The technology "takes readouts from both high and low ISO to instantly create high dynamic range images with less motion-artifacts." It can also take and process multiple high-ISO frames quickly, for an effective maximum ISO of "close to one-million". For video, the GN2 supports full-HD videos at 480 frames-per-second (fps) or 4K at 120fps. The ISOCELL GN2 is already in mass production, meaning it should make its way into phones soon.
read full story
5. T-Mobile Redefines Premium Plans with Fully Unlimited Data
T-Mobile today introduced a new premium service plan called "Magenta Max", that offers truly unlimited "premium" (full-speed 5G or 4G) data. Before today, T-Mobile's top-end "Magenta Plus" plan offered up to 50 GB of full-speed data, after which speeds could be restricted. Magenta Max will replace Magenta Plus on February 24th. T-Mobile is also improving the mid-range Magenta plan to offer 100 GB of full-speed data (up from 50). Magenta Max offers 40 GB of high-speed hotspot data (double the 20 GB offered on Magenta Plus), while the high-speed hotspot allotment on Magenta is being upgraded from 3 GB to 5 GB. Magenta Max also offers unlimited 4K video, 2x data speeds (compared to 2G) while roaming internationally, unlimited Gogo in-flight Wi-Fi, Scam Shield Premium, and NetFlix Standard included (instead of Netflix Basic) on family plans. Magenta Max has the same pricing as the Magenta Plus plan it replaces: $85/month for a single line, with AutoPay discount, taxes & fees included. Family-plan discounts bring that down to $70/line for two lines, $57/month for three lines, $50/month for four lines, or as little as $40/month for eight lines. A limited-time offer brings three lines down to $47/month/line, and a similar discount brings the standard Magenta plan down to $40/line/month for three lines.
read full story
6. San Francisco's Clipper Transit Card Coming to Apple Pay, Google Pay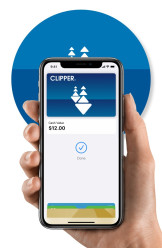 Clipper Card — the universal transit fare card for all 24 San Francisco Bay Area transit agencies — will be supported in Apple Pay and Google Pay digital wallets "this spring". Residents and visitors will be able to add a stored-value Clipper card to their digital wallet and tap their phones to ride transit, replacing a physical Clipper card. The system differs from those in cities (such as New York and Chicago) offering "open" fare payments made directly from a credit or debit card in Google Pay / Apple Pay. Apple has launched a page where people can sign up to be notified when Clipper is available for iPhone and Apple Watch. Separately, Google announced a new feature of Google Maps that lets users buy and present transit fare payments — including Clipper, when available — without leaving the Maps app, as part of turn-by-turn directions that include transit.
read full story
7. Verizon, Google Offer New Intro Deals on Plans
Google Fi and Verizon Prepaid recently launched new introductory deals for new customers / added lines. Verizon Prepaid is offering the third month of service for free, while Google is offering half off the first three months of service. Verizon also offers "loyalty" discounts that kick in starting on the fourth month.
read full story